Alaska Economic Trends Magazine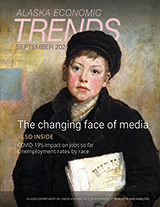 The changing face of media, page 4
COVID-19's impact on jobs so far, page 9
Unemployment rates and race, page 11
Alaska Economic Trends is a monthly magazine that covers a range of economic issues. To subscribe to the free electronic version, click here, email dolsharedragroup@alaska.gov, or call (907) 465-4500. A paid print subscription is also available through Assets, Inc.
READ PAST ISSUES
or
SEARCH TRENDS.
Trends is searchable from 1978 through now
. The search can include any combination of the title or subtitle, date or date range, author, or full text.